Work With the Tile Experts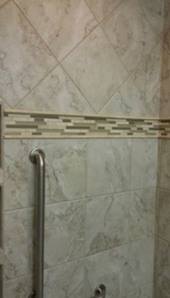 Hicks Carpet One has been your local tile expert for over 30 years. We continue to help homeowners use tiles to design beautiful settings that bring out their unique styles and personalities for their home. One place where tile is really a great option is in bathrooms. Bathroom tile is stylish and versatile, and it can certainly help create designs that are timeless. There are three main places where you can use bathroom tiles are on the floor, on the walls, and in the shower.
Bathroom floor tile is a great option because it combines style with water resistance. Natural floors such as wood and stone can add beauty to any room, but they are not durable enough for moist settings such as bathrooms. Tiles, especially ceramic tile, can add similar natural looks while remaining resistant to water and even heat! Therefore, there is no problem to walk on tiles with wet and bare feet, especially since the surfaces can be textured for increased slip resistance. Compared to other tiles, bathroom floor tile is thick and strong to protect against impacts such as foot traffic and drops.
For walls, there are numerous options. Compared to floor tile, wall tile is less focused on durability and more focused on design. Bathroom wall tiles are typically small and available in a variety of shapes and sizes, and they are often used to create intricate designs that you will not see on floors. For extra design options, check out mosaic tiles. Mosaic tiles are extremely versatile, and they can help create custom designs.
When it comes to showers, shower tile is certainly one of the best and most popular options. Shower tile is similar in appearance to wall tile, but it is more durable. In fact, most showers are designed with porcelain tile, since porcelain is more water and heat resistant than even ceramic. It has continually proven to be the best choice for showers. Nonetheless, this extra durability does not eliminate many design options.
To go through the countless bathroom tile ideas, visit our showroom at 9910 Broadway Suite 109, San Antonio, TX 78217 or contact us work with one of our tile experts today!