Versatility of Carpet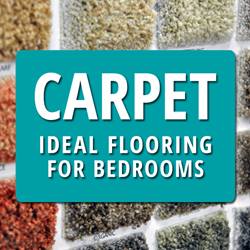 At Hicks Carpet One, we consider a room's floor to be the "fifth wall." Like any wall, a floor should bring color and texture to a room's design. What better way to do so than carpet? Because of its versatility, carpet still continues to be the most popular flooring choice in homes and businesses. It's available in a variety of colors and textures that can complement any room's style and design.
Another benefit of carpet is that it is a great choice for most rooms because of its unique surface. For example, carpet can make a great insulator. While many hard-surfaced floors can reflect cold air from the outside, carpets do a great job of keeping in the heat of a home. This is great for the winter season and can help you save on your heating bill. Just this reason alone makes carpet very ideal.
Carpet is also a great choice for homes with elders, children and pets. Along with insulating properties, qualities such as softness and noise reduction are also benefits of carpet. The cushioned surface means that carpet is less noisy when walked on, which can make a huge difference for areas in the house that have a lot of foot traffic. Carpet also has a soft, non-slip surface, which can be of great help to children and elders. Even if they do slip and fall, the surface can act as a cushion!
Carpet can be a lot easier on the joints and feet, too. The softness of a carpet is way more comforting than a hard floor. For those with family members or pets that have joint issues, carpet is the best option. Nothing can beat the comfort of a soft carpet. Other hard-floor surfaces simply cannot replicate the benefits of carpet.
There are three different styles of carpet: cut pile, loop pile and cut/loop combination. Cut pile carpet, such as Velvet and Saxony, is made of pieces of yarn that are evenly trimmed. Loop pile, on the other hand, is made of uncut yarns that are looped, increasing the carpet's durability. Cut/loop combination carpet includes some cut and looped yarns, which gives it a truly unique look. Whatever of style chosen, it is sure to tie your home's look together.
Which carpet style is right for you and your home? Stop by Hicks Carpet One at 9901 Broadway Suite 109, San Antonio, TX, 78217 or call (210) 904-0670 and our experts will help you answer that very question. With over 70 years of industry experience, we can help you choose the style, color and texture that fits your needs. Not only will we help you find the perfect carpet; we'll install it for you as well. Our installers are all well-versed in carpet installation, and we also have a lifetime guarantee that backs up our job.