Flooring for Any Setting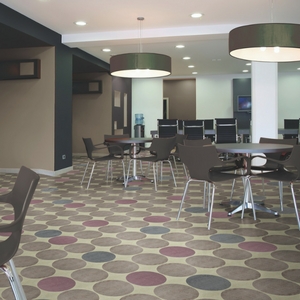 Commercial settings such as offices, retail stores and warehouses certainly serve a different purpose than residential settings. For example, there are different traffic patterns and moisture levels. Commercial settings require a much more durable environment due to the work environment and amount of people. Given these differences, it makes sense that residential and commercial flooring are different as well. How, exactly?
In commercial settings, functionality and performance is more important than style. Commercial floors need to be strong, stable and stain resistant to be able to combat heavy foot traffic and an increased potential for spills and stains. Carpet may not always be the best option for commercial settings, but there are certain commercial carpets available that are built with performance and durability in mind.
These carpets are usually not as soft and comfortable underfoot; rather, they are stronger and more rigid to handle high foot traffic.
Moreover, commercial carpets are easier to clean and maintain than residential carpets. Because most commercial spaces tend to be large and wide open, maintenance can be time consuming. Commercial carpets reduce the time spent on maintenance, so your business can focus on other priorities. Though its purpose isn't style, commercial carpet can also contribute to a space's design and complement its atmosphere. Style doesn't always have be sacrificed for functionality and our commercial carpets prove just that.
Although hardwood isn't durable enough for most commercial settings, you can certainly get similar looks with commercial vinyl and linoleum flooring. Vinyl and linoleum provide the look of beautiful, natural hardwood without the cost and high maintenance care. Commercial vinyl has a strong top layer to resist scratches and scuffs, and it also will handle moisture. Linoleum flooring is another popular choice in commercial settings, especially in retail stores. Linoleum can handle heavy foot traffic, it resists spills and stains, and it can be easily cleaned with a wet mop.
To learn more about commercial flooring, contact us or visit our showroom at 9901 Broadway Suite 109, San Antonio, TX 78217.