Choose Daltile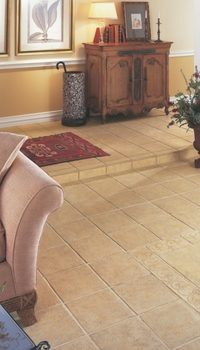 If you're looking for quality tile for your kitchen and bathroom, consider Daltile. Daltile is one of the biggest names in the tile industry because of it's incredible range in inventory. Daltile offers floor tile, wall tile, mosaic tile, backsplash tile, shower tile and much more. All tiles come in an amazing array of styles, designs and patterns. With whatever type of tile you're looking for, Daltile has got you covered.
Daltile provides everything needed to dream, create and design your vision of your tile with confidence. It offers a few different product performance technologies that you won't see with other tile manufacturers. One of these technologies is Reveal Imaging. Reveal Imaging technology is what provides an authentic stone and wood look to your tile. With this technology, Daltile combines the durability of real tile with the looks of natural stone and wood.
In addition to Reveal Imaging technology, Daltile offers StepWise technology. StepWise tiles features industry-leading slip resistance that may be of great benefit to homeowners' elders, children or just plain clumsy relatives. Slip resistance can be the difference between occasionally slipping and falling and having security in every step you take. StepWise is also easy to clean and maintain. These two technologies are the only two of many performance technologies found throughout Daltile's line of tiles that look and perform better after installation than normal tiles.
We are excited to offer one of the area's best selections of Daltile. Two of our featured styles are Heathland and Haut Monde. Heatland tiles have a durable ceramic construction, so they are extremely versatile. In fact, they can be installed on floors, walls, backsplashes and even countertops. These tiles offer a natural stone look that is perfect for rustic design settings.
Haut Monde tiles feature a porcelain construction, so they are even more durable. They can withstand heavy moisture and heat, while also being suitable for areas with significant foot traffic. This makes Haut Monde a fit for virtually every room. Haut Monde tiles are especially made to replicate real sandstone. Both Heatland and Haut Monde play significant roles in tile selection.
To take a closer look at our Daltile selection, stop by today at our 9901 Broadway Suite 109, San Antonio, TX, 78217 location or contact us.