Installation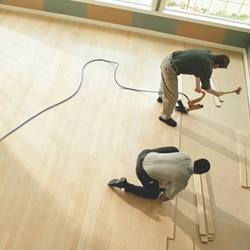 After weeks of sorting through samples and constantly measuring your room dimensions, you've finally settled on laminate. But, now another difficult task: flooring installation. Before you frantically search through those complicated directions for installing laminate flooring, let us handle installation for you. Our experts will install with care and the upmost professionalism. For over 70 years, we at Hicks Carpet One have provided quality, long-lasting floor installations for many of our San Antonio customers.
Our installers are trained through Carpet One, so they understand all aspects of a quality install. They are comfortable working with laminate, carpet, hardwood, vinyl and any other flooring type. They get the job done efficiently and effectively. You can be rest assured that your new floor will be installed properly when it comes to our flooring experts. Plus, we provide a lifetime guarantee on our installs.
At Hicks Carpet One, our purpose is to exceed your expectations. We get the job done all the way through. After the floor is installed, our installers will properly dispose of any excess material while making sure that your room and home are clean. They also will sweep or vacuum the floor to remove any dirt or other particles. Our installers will finally provide you with a full walkthrough of the new floor, and they will certainly answer any questions you may have.
Don't worry about installing your laminate flooring! Let us handle the rest! Simply give us a call at (210) 469-2121, and you'll be on your way to a perfect installation.