Our Refinishing Services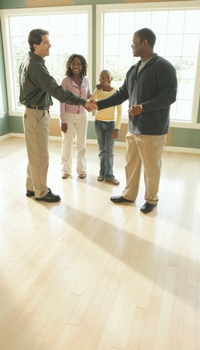 Hardwood certainly adds beauty and style to any home. Other flooring types certainly try to mimic these natural looks and feels, but it's no surprise that hardwood continues to be the gold standard when it comes to luxury floors. Hardwood floors have a timeless, elegant look and automatically increase your home's equity. To keep their beautiful look, hardwood floors need proper maintenance such as sweeping. Over time, hardwood floor refinishing may be required as well.
What exactly does it mean to refinish hardwood floors, and how does the process work? Once the finish and shine wears off, the floor's surface is sanded to remove any excess finish. Sanding hardwood floors also removes any scratches and scruffs and keeps the surface smooth. After the hardwood is sanded and cleaned, a new finish is properly applied. The surface will not only look brand new; it will be protected as well.
Hardwood planks are made with thick construction, so your hardwood floor can be refinished multiple times. As a result, refinishing can be used to keep your hardwood floor looking brand new for a long time. Depending on the wood, you also have the option to refinish your floors in a different color. For some homeowners, this means they are not tied down to the same wood color every 10-15 years. This is every redecorator's dream!
This certainly is not a DIY project. It takes to time, energy and attention to detail to properly refinish hardwood floors. Because refinishing hardwood floors is a process, it's best to let the experts at Hicks Carpet One handle everything for you. Our experts know exactly how to guarantee a successful refinish, and they also know how to sand hardwood floors. In fact, we offer a dust-free floor sanding to keep your home clean and healthy throughout the entire process!
Call (210) 904-0670 or visit our location at 9901 Broadway Suite 109, San Antonio, TX 78217 to learn more about hardwood floors refinishing.