Laminate vs Hardwood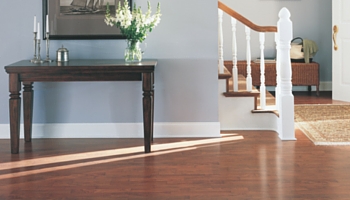 Laminate wood flooring looks and feels like hardwood, but there are actually quite a few significant differences. Most laminate looks so much like hardwood that many people can hardly tell the difference. Some may not see it at all! How exactly is laminate different that hardwood? Let the experts at Hicks Carpet One help you out!
First, laminate is not made from wood. Normally laminate is created from synthetic materials such as resin, fiberboard and so on. It's usually built of four layers: wear, core, base and decorative. The wear layer provides the surface with scratch and scruff resistance that many hardwood materials are prone to. Under the wear layer are the core and base layers, which add extra strength, stability and some water resistance. The top layer, called the decorative layer, has a high-resolution image of real hardwood.
Laminate wood flooring doesn't stop at its looks either. It can have the actual feel of hardwood as well. You can opt for random ticking that resembles an oak floor, enhanced wood grain that may or may not correspond to the wood image, or registered embossing for an authentic feel that matches the wood image. Random ticking is the noise hardwood floors make when people step on it. Some may find this sound as a deterrent, but others may find it to be an indication of authenticity. The perk of laminate flooring is that you have the power to decide if you want your floors to have this quality or not.
Enhanced wood grain can be a great transformation to your floors. It brings a rich, deep color that can tie your entire room together.
Registered embossing provides the ultimate realistic look to laminate flooring because it matches the decorative layer's underlying pattern texture as opposed to the wood grain texture. If you want your laminate flooring to look as real as possible, registered embossing is the way to go. A combination of enhanced wood grain and registered embossing also brings the laminate flooring's look of authenticity on a whole another level.
Nonetheless, laminate needs to be maintained similarly to hardwood. It's best for it to avoid moisture, and the surface should be swept regularly. Though the laminate maintenance is similar to hardwood, the laminate flooring itself is certainly stronger, more durable and more affordable than hardwood. Plus, laminate's installation process is much easier than hardwood because it can be installed without nails or any adhesive. With laminate flooring, you can truly have it all with the look and feel of hardwood flooring without all of the hassle hardwood requires.
To learn even more about laminate wood flooring, contact us or visit our showroom at 9901 Broadway Suite 109, San Antonio, TX, 78217!