What Is Linoleum Flooring?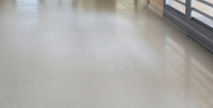 Although linoleum flooring has been around longer than resilient flooring options such as vinyl, it does not receive nearly as much recognition. In fact, many homeowners do not even realize that linoleum is a flooring option! Linoleum is actually considered one of the better choices of resilient flooring options because it's made out of natural materials, making it more eco-friendly. Because of it's environmentally friendly appeal, linoleum might actually be the best option for your next project. So, what exactly is linoleum flooring?
Linoleum has the same look, feel and function as vinyl but its construction is much different. Whereas vinyl is made from synthetic materials such as plastic, linoleum is made from natural materials such as linseed oil, wood flower and powdered cork. As mentioned before, linoleum's construction means that it is friendlier to the environment than vinyl, and it is certainly more sustainable. Along with being more environmentally friendly, linoleum can provide better air quality than vinyl because its low VOC emission. Better air quality leads to a healthier, happier home.
Furthermore, linoleum, unlike vinyl, is not made from individual layers. Linoleum instead has a solid and uniform construction similar to hardwood. As a result, linoleum has a consistent color and pattern through its backing, so any wear and tear will not show as easily on the surface. Less scratches and scuffs mean a longer, lasting beautiful look. They also mean less maintenance!
Like vinyl flooring, linoleum is available in many wood and stone looks. However, linoleum is better known for its vibrant colors and patterns.
These colors and patterns are great for areas that call for style and durability. One quality that linoleum has that hardwood doesn't is its resistance to spills, stains and moisture. This means linoleum can be installed in areas of the house such as the kitchen, bathroom and basement.
If you have a certain look you want for your setting, chances are linoleum can meet your need. Linoleum is available in sheets, tiles and planks.
The traditional option is normally linoleum sheets (or linoleum rolls), but linoleum tiles and planks are becoming more popular now. The tiles and planks can be installed similarly to luxury vinyl tiles and planks. Linoleum has many of the benefits of vinyl and hardwood without all of the disadvantages.
To learn more about linoleum, contact us or visit our 9901 Broadway Suite 109, San Antonio, TX 78217 location today!