Our New Selection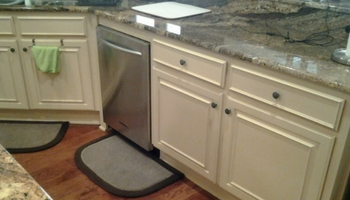 We at Hicks Carpet One are excited about our new selection of solid surface options from popular brands such as HanStone and Caesarstone. Solid surfaces, such as solid surface countertops, are perfect for residential areas such as kitchens and bathrooms. They bring the perfect finishing touch and can really make tie the walls and floors in a room together.
Depending on the style, solid surfaces can also bring up the value of your home. Our most popular selections are granite, corian and quartz.
Granite is one of the more popular solid surface options because of its natural beauty. It's great for kitchen messes and is easy to clean. Unlike other options, granite is 100% natural, so its looks are truly unique. In fact, since no two pieces of granite are exactly alike. Any granite solid surface is guaranteed to be one-of-a-kind, making your home that much more unique.
For the most part, you'll see granite used on countertops. Granite countertops can add style and luxury to any kitchen or bathroom, and they always remain cool to the touch. Plus, granite surfaces can be smoothed and glossed. We recommend having your granite surfaces sealed to protect against spills and stains. Granite is also virtually indestructible and heatproof, making for a durable, long-lasting choice.
Whereas granite is natural, Corian is engineered. Corian still offers natural looks like granite or stone, but it's specially-constructed from synthetic materials. This special construction means that Corian is less expensive than granite, and it also means that Corian is more durable.
Corian solid surfaces, including Corian countertops, do not require any sealants to protect against stains, and they resist scratches, scuffs, and other impacts better than granite. Moreover, because Corian holds its pattern through its entire construction, any scratches can be buffed out with the appropriate treatment.
Quartz more or less combines the advantages of granite and Corian to offer solid surfaces that have natural looks and increased durability.
Most quartz surfaces are made from over 90% real quartz, but they are fortified with other materials. These other materials make quartz more wear resistant than granite, but they also are used to create a granite-like appearance. In other words, many quartz surfaces look and feel like real granite, but they remain more resistant to scratches and chips. As a result, quartz countertops tend be a very popular option for homeowners who want the most out of their countertops.
Whatever type of surface used, Hicks Carpet One provides high-quality options that will make your home that much more beautiful. If you have any questions about our solid surfaces selection, call us at (210) 904-0670. To view our solid surfaces selection, visit us at 9901 Broadway Suite 109, San Antonio, TX 78217.