Ceramic and Porcelain Tile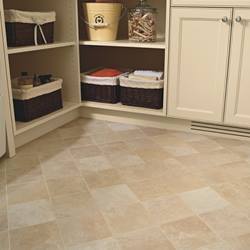 Tile is a popular option for flooring and walls because of its diverse functions. It's easy to clean and maintain because of its resistance to moisture. Spills, for example, are not absorbed and can simply be wiped up. This makes tile extremely practical in homes with children or pets. Our selection of tile is available in a variety of shapes and colors.
Ceramic tile is considered a "catch-all" because it is available in so many shapes, sizes, and colors. It can be used for flooring, walls and even on countertops. Ceramic is also fade and stain resistant. It is so durable that, with proper maintenance, it can be permanent. Another benefit is that ceramic is water and heat resistant.
Ceramic is the perfect choice for bathroom and kitchen tile because of its durability. However, it can still fit in any other room in the house as well. Many homeowners have found ways to implement tile as complementing details to other rooms in their home, giving their space personality. Ceramic tile's versatility gives you the choice and control over how you want to design your settings. Given its features, it's still best to use tile in indoor spaces only.
For outdoor use, we recommend porcelain tile. Porcelain sometimes looks similar to ceramic, but it is more dense and stronger. Porcelain also absorbs less water than ceramic. This means porcelain can withstand tough weather conditions, making it perfect for the outdoors. With porcelain tiles, your home can be just as stylish outside as it is inside.
Hicks Carpet One has been proudly serving the San Antonio, TX area since 1939, so we have years and years of experience with tile. Our experts will help you choose and ultimately install the right tile, and we'll certainly be able to answer any question along the way. Plus, once you're ready to move forward, we can provide valuable financing and other money-saving services that cater to every budget. Contact us today for a FREE estimate.