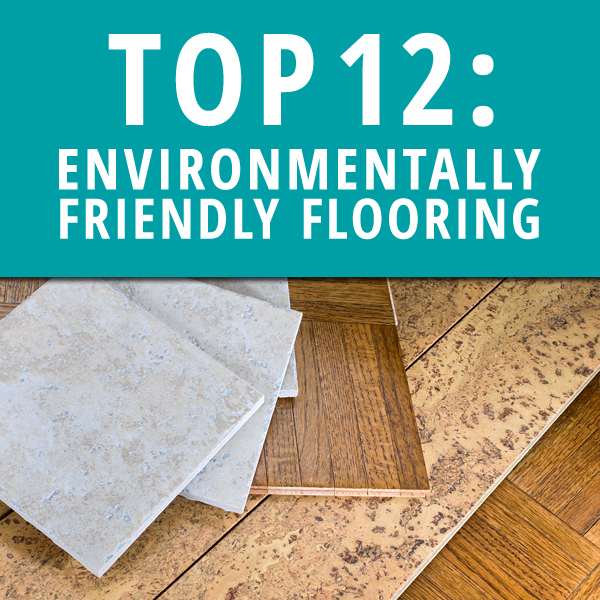 Top 12 Environmentally Friendly Flooring Ideas
Nowadays there are countless flooring options that are perfect for your home. You can make the world a littler greener place by selecting flooring options that are environmentally friendly. Do your part to reduce harmful impacts on the environment with eco-friendly flooring.
Eco-friendly may sound boring and expensive at first, but many designers and manufacturers have come up with innovative, creative ways for people to implement environmentally safe flooring options into their homes. Eco-friendly flooring benefits both the environment and your family. There are numerous types of eco-friendly flooring to install into your home. Here are 12 of the most popular options.
Cork
Normally when you think of cork, an image of a planning board or top to a wine bottle comes to mind. Cork actually makes for an innovative flooring material. It's an ideal renewable source because it is harvested from the bark of the cork oak tree as opposed to cutting the tree down. Properties of cork are anti-microbial, which reduce allergens. Like wood, cork can be finished with various stains and colors to tailor to any design style.
Cork is fire retardant, low maintenance and acts as a toxin-free insect repellent. It's also naturally resistant moisture, mold and rot. Because it's so durable, it can virtually be installed in any room of the house. Depending on its quality, cork can last between 10-30 years. It can even be ground up for compost.
Wool Carpet
Carpet is a very popular choice for homeowners because it is soft underfoot, comfortable to sit on and comes a range of textures, colors and designs. It's great for absorbing sound and insulation. Wool carpet is a natural resource that can be dyed any color to suit your style. It's durable and can last centuries. Other great natural materials used to make carpets are sisal, jute and cotton.
Glass Tile
Witness for yourself what recycling wine and beer bottles can create by installing glass tiles. These materials are recycled into gorgeous glass tiles that won't mold or mildew in damp areas. Glass tiles are low maintenance and don't stain. The design options are abundant in colors, finishes and patterns, giving homeowners a wide range to choose from. For rooms that need an additional layer of light, glass tiles reflect light rather than absorb it like ceramic tiles.
Ceramic Tile
Ceramic is non-toxic and easy to maintain. It's produced from abundant natural clays, which makes it very durable. Ceramic is biodegradable and can be recycled as aggregate material for sidewalks and roads. Like glass tiles, ceramic tiles give homeowners a wide range of design options to choose from. Ceramic can be installed glazed or unglazed, depending on the homeowner's preference.
Bamboo
Bamboo is another popular wood-like option. It is easy to install, easy to maintain and holds similar characteristics as hardwood. In fact, bamboo is actually harder than most hardwoods. Research shows that it is 13 percent harder than maple and 27 percent harder than northern red oak. Bamboo flooring also doesn't need to be refinished as much as hardwood floors. It's extremely durable and naturally resistant to insects, mildew and water.
Bamboo grows abundantly and matures in only three to five years, making it incredibly sustainable. Once removed, it can be burned for energy or biodegrade on its own. Bamboo flooring can last 30 to 50 years. It also varies in grain and color, making every house unique. With so many benefits, it's no wonder why bamboo is one rapidly becoming one of the most popular choices for flooring.
P.E.T. Berber Carpet
Polyester (P.E.T.) Berber is another popular sustainable carpet of choice. What makes this option so attractive is that it is made of recycled plastic bottles, reducing the amount of trash in our world's landfills. P.E.T. Berber carpet is durable, spill resistant and varies in colors and patterns. It fits most color schemes and can even work in commercial settings. This carpeting choice may also make you think twice before using another plastic water bottle.
Stone
Though stone is non-renewable, it still offers many eco-friendly benefits. It's only known to potentially emit radon. Granite is a popular choice of stone because it is stain-resistant, durable and scratch-resistant. It can last decades and sometimes even centuries. Stone can be disposed of and recycled easily too. It also can bring a unique, beautiful edge to your home's design.
Linoleum
If you already have vinyl installed in your house, consider switching to linoleum. A much safer, environmentally friendly alternative to vinyl, linoleum reaps numerous benefits. It has antimicrobial agent, which is a bonus for areas such as kitchens and bathrooms. Linoleum is a resilient material that is low emitting, durable and comes in different shapes, patterns, and colors. It's also cost-effective, fire retardant and water resistant.
Reclaimed Hardwood
If you absolutely adore hardwood flooring, reclaimed hardwood is the best of both worlds. Reclaimed hardwood reuses wood that was chopped down from trees years ago. Forest Stewardship Council (FCS)- certified wood is also an option because it manages the distribution of wood with high social and environmental standards. This option has all of the benefits of hardwood flooring without the guilt of chopping down more trees. Along with eco-friendly benefits, hardwood flooring will also raise the value of your home.
Rubber
Rubber is another surprising option to make the list. Made from recycled tires, it's slowly finding its way into our homes. Rubber flooring is a long-lasting, versatile option that is comfortable underfoot, affordable and water resistant. It comes in various styles, patterns and colors, too. Rubber is also low maintenance and can be made hypoallergenic.
Whatever your style, there is an eco-friendly flooring option just right for you. Today's designers and innovators have come a long way to bring the best out of environmental flooring options so you don't have to sacrifice style for sustainability. Now you can feel good about what you're installing into your home and know that you're helping making a difference in the environment. You and your family will reap from the health benefits, too. With eco-friendly flooring, it's a win-win situation for everyone.
For more information about how you can install environmental flooring into your home, contact Hick's today!